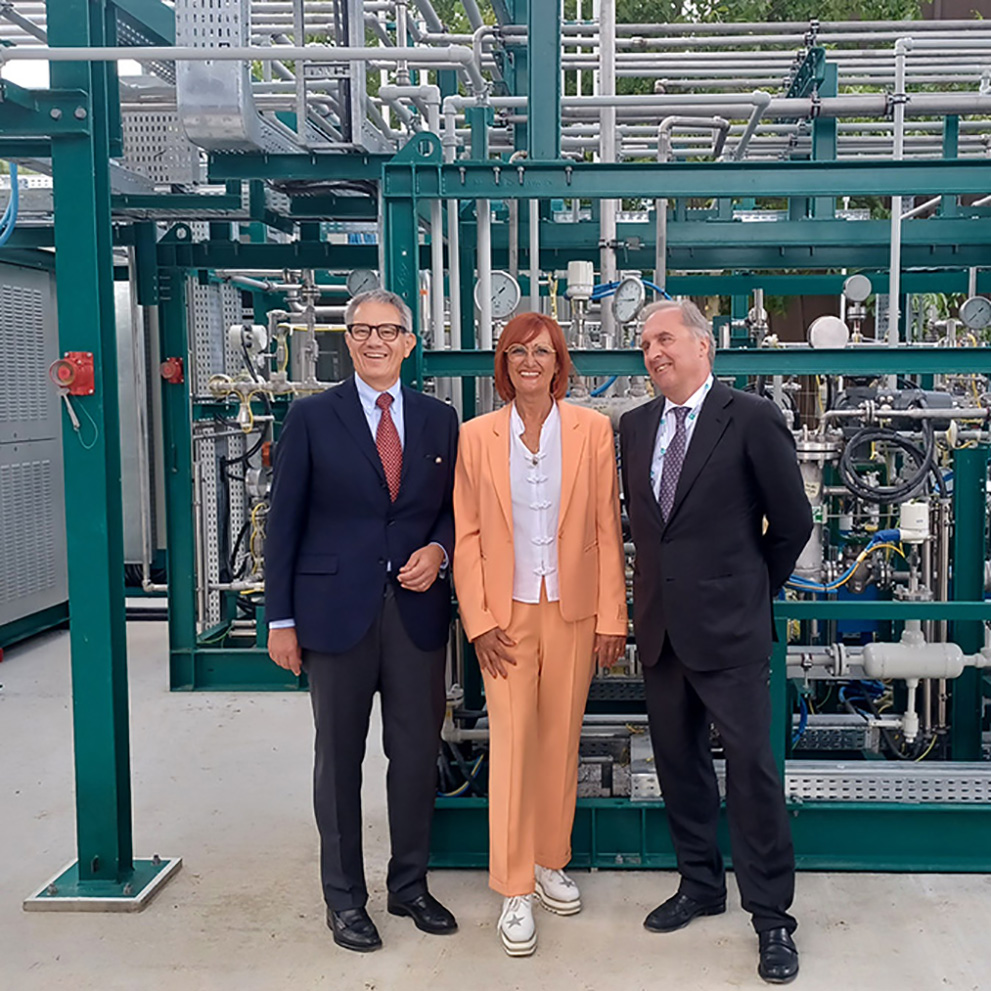 Inaugurated Bio FARM, MicroPyros' research plant for biomethanation
24 July 2023 - Corporate
On Friday 21st of July 2023 in Straubing, Germany, the first and only research and testing plant in Europe for biomethanation was inaugurated: Bio FARM.
Located within the Straubing water purification center and operated by Straubinger Entwässerung und Reinigung (SER), Bio FARM takes advantage of its location to use waste gas and sewage sludge to make gas mixtures on site. The pilot plant can operate in real conditions, taking into account climatic changes that are difficult to replicate in laboratory experiments.
The process makes use of MicroPyros' Archaea: these are micro-organisms capable of metabolising hydrogen and carbon dioxide to produce biomethane. As is well known, biomethane can be used as a substitute for natural gas because it is chemically identical. This has many advantages, including the possibility of storing electricity in the form of methane in gas infrastructures, capturing carbon dioxide for later use and replacing a fossil source with biomethane.
These are positive aspects that contribute in making biomethanation a technology capable of giving further impetus to the use of hydrogen, as well as contributing to the achievement of the objectives set by the European Union to have at least 35 billion cubic metres of biomethane flowing through gas networks by 2030.
Explains Gianfranco De Feo, CEO of MicroPyros: "Biotechnology is a new frontier for the Pietro Fiorentini Group, which has long invested in building a range of solutions for the production of biomethane and e-methane. Our goal is to export Bio FARM's technology all over the world to accelerate the energy transition".
Adds Cristina Pop, Plant Manager of the Straubing Wastewater Treatment Plant: "The biomethane produced by Bio FARM, is fed back into the digestors and used to generate electricity and heat for the treatment plant: it is clean energy that comes from a treatment plant. A potential solution not only for energy, but also for climate-neutral mobility".
The plant is the result of cooperation between the companies of the Pietro Fiorentini Group, primarily MicroPyros BioEnerTec, the city of Straubing and SER.